Good Luck to Highlander Representatives Attending the Canada 55+ Games
Good Luck to the NS 65+ Mixed Curling Championship team that will be competing in the Canadian 55+ Games in Kamloops in August.

Pictured below L-R: Skip- Tony Stirling; Lead- Audrey Dorey; Mate- Leona Williams; Second- Jack Machielsen.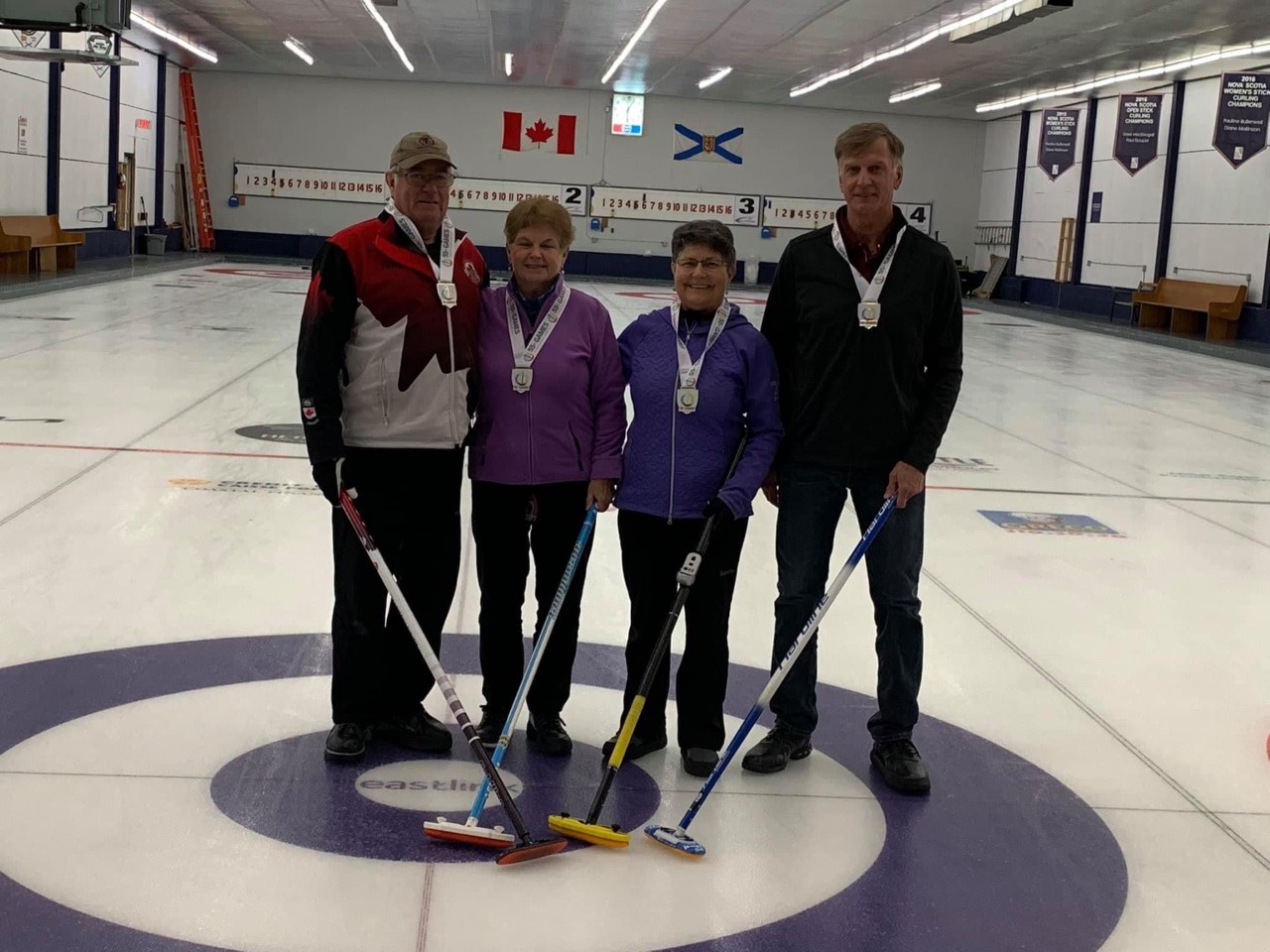 Year End Winners 2022
As the curling season draws to a conclusion, leagues are handing out their hardware! Check out all the winners in the photos below. Congratulations to all the winners and we look forward to seeing everyone out on the ice in 2022-2023!!!

Highlander Curling Club Volunteer Highlight: Linda Juurlink
Highlander Curling Club is a volunteer-run club and is lucky to have many dedicated members. One of these members is Linda Juurlink. For 20+ years, Linda has been offering curling instruction to new curlers and members alike through a multi-week Learn to Curl program and through her Friday morning skills sessions. Linda graciously volunteers to organize the cleaning of the club facilities on Friday mornings and in return for those who help her, she offers free skills sessions and ice time for new and returning members. The Highlander Curling Club is grateful for all of its volunteers and wants to especially recognize the contributions of Linda! Thank you for all that you do Linda; your dedication to our club does not go unnoticed!!


Highlander Curling Club Mourns Past President Gordon Morrison

Members of the Highlander Curling Club were saddened to learn of the passing of Past President Gordon Morrison. Gordon graciously gave of his time to serve on the Board of Directors in 2009-2010 as a Board Member, from 2010 - 2012 as Vice President and from 2012 - 2015 as President. He will be sadly missed around the rink. Condolences are extended to his family and friends. Gordon's obituary can be found at the following link: https://www.clcurry.com/obituaries/158855
The Highlander Curling Club is grateful to receive a donation from the Municipality of the Co. of Antigonish as part of the Covid Re-start program. Pictured is Club President Lorne Deering and Club Treasurer Clarita Campbell accepting the cheque from Warden Owen McCarron. The Highlander expresses its sincere appreciation to the Municipality of Antigonish for their support.
Highlander Curling Club Members Roy and Roselle Lawlor created this awesome Santa scene of Santa curling against Team Gushue! Check out our Facebook Page to see the link to the shout-out they received from Team Gushue on their page! Way to go Roy and Roselle!!!
Are you school-aged and interested in Junior Curling? It's not too late to sign up! Check out the League Info page for more information!
2021 Provincial Mixed Championship
Congratulations to Team Burgess of Truro CC who won the 2021 Provincial Mixed hosted this past weekend at the Highlander!
Pictured Left to Right: Craig Burgess, Colleen Pinkney, Todd Burgess, & Shelley MacNutt
Interested in Curling regularly this year??
Check out our "League Info" page and get in touch with the contact person of the league you are interested in! They will give you all the details for registration :)

Also check out our "COVID-19 Protocol Documents" page to get details on vaccine requirements and more!
Thank You to Outgoing Junior Coordinator - Brian Nicholson
The Highlander Curling Club Board of Directors would like to thank Brian Nicholson for his many years of volunteering as the Highlander Junior Program Coordinator. Brian is stepping away after 5 years in which he has successfully built up the program by providing skillful instruction with a high level of enjoyment and always sharing his enthusiasm for the game with our young members.
THANK YOU BRIAN!!!
Myste Anderson will be taking over that role and we are quite confident that she will do an outstanding job!

2021 League Championship Trophies
Highlander Curling Club Dehumidifier Repair
The Highlander Curling Club expresses its sincere thanks to the Municipality of the County of Antigonish for their funding support through their Community Partnership Capital Grant. With the help of this grant, the Highlander Curling Club was able ensure a critical repair of their aging dehumidifier. The repair has decreased the humidity within the ice shed and has reduced the risk of falls from ice freezing on the side boards. Pictured below are Past President Len MacDonald, President Lorne Deering, Board Member Harry Daemen and Warden Owen McCarron who were all instrumental in making this project happen. Many thanks to all involved in this successful project!!

*NEW* Highlander Curling Club Sign
Big thank you to Roy Lawlor & Len MacDonald for organizing and installing our new welcome sign at the Highlander Curling Club.
It sure looks great out there with our new garbage bin and platform that was installed as part of the Aug 29th St Andrews Trails Association Community Clean-up sponsored by The Great Outdoors Fund & Unsmoke Canada. Big thanks to Harry Daeman who was a huge part of this effort!
Great News: Highlander Curling Club Opening
Interested in Curling this winter? Looking for something to do to get out of the house? Why not try Curling?

Highlander Curling Club will be opening this fall while following COVID-19 Health Protocols as determined by the Province of Nova Scotia. Click here to see the Highlander Curling Club Return to Play Documents.
Opening Date: Monday, October 26th, 2020
Leagues Available: Men's, Women's, Mixed, Mixed Open, Seniors and Juniors
Check out our League Info page for contact information for League Reps or send us an email or Facebook message for more info.
Highlander Curling Club Mourns Loss of Founding Member
The Highlander Curling Club lost a founding member with the death of John Juurlink on August 7, 2020. John was involved with the Club from day one, volunteering at every level from the ground up. He was very knowledgeable about the plant and how things worked. He was often called upon when things were broken, and he spent countless hours at the Club fixing and maintaining its inner workings. John was the "go to" guy. He served as a board member and Club president and he could be found tending the bar from time to time. John loved the sport of curling and he will be missed.
On behalf of the Highlander Curling Club membership, the Board of Directors would like to extend our sincerest condolences to John's wife Linda, who is also an integral member and volunteer in our club, as well as his family.
John Juurlink Obituary
Nova Scotia Curl Releases Return to Play Guidlines for 2020-2021 Season

Nova Scotia Curl has released it's Return to Play Guidelines and Plan for the 2020-2021 Season, amidst the COVID-19 Crisis. Clubs across Nova Scotia, including the Highlander Curling Club must now determine the feasibility of opening this season while following the guidelines that have been approved by the Nova Scotia Department of Health. We encourage you to become familiar with the Nova Scotia Curling Return to Play Plan that can be found at the following link:
NS Curl Plan. This Plan has been approved to begin at Phase 3 of the Plan as long as the epidemiology of Covid-19 remains as it is as of July 22nd.

Highlander Curling Club You Tube Channel
Highlander Curling Club now has its own You Tube Channel!!!! Check out the first cool video, as we get a "rocks view" as the stone curls down the ice, with many Highlander Curling Club members making cameos!! Huge Thanks to Board Member Edwin DeMont for creating this awesome video and our You Tube Channel, as well as Board Member Graeme Fraser for throwing the shot! **BEST VIEWED ON THE YOU TUBE APP ON MOBILE**Watch for more cool videos this season!!
Curling: A 2-Minute Guide
The Highlander Curling Club's first leagues started in 1992. It was built almost entirely by volunteers and continues to be run to this day 100% by volunteers.

The Highlander Curling Club has hosted many high calibre events including the Nova Scotia Scotties playdowns, Men's Tankard playdowns, provincial junior qualifiers, Provincial Seniors Mens & Womens, AUS championship among many others.

There are leagues taking place six days a week and opportunities for booking the club for events such as fundraising bonspiels, staff parties and family gatherings
NOTE: Highlander Curling Club does not accept credit or debit.
Hwy 316 Civic #3916
St Andrews, Nova Scotia B0H1X0
Looking For More Information on Events and Groups in the St. Andrews Community? Visit the St. Andrews Community Website