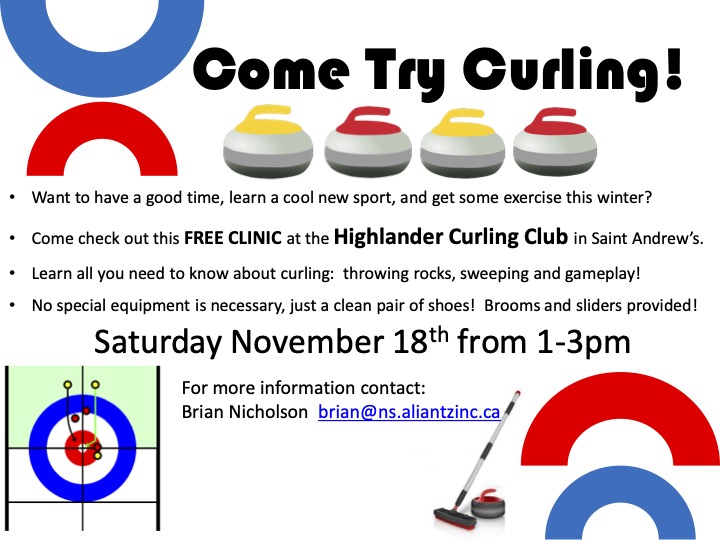 Interested in Curling This Year?
The ice is in and the Highlander Curling Club is opening on Monday, October 16th, 2023 for the 2023-2024 Season!! Sign up ASAP for the league(s) you'd like to play in via this link: Registration Form 2023-2024
Payment can be made at the club! For more info about leagues and fees, see the League Info and League Fees pages that can be found in the menu of this site.
Annual General Meeting - Sunday, September 24th, 2023
Reminder to Shareholders and Members that the Annual General Meeting of the Highlander Curling Club will be held on Sunday, September 24th, 2023. Shareholders are asked to RSVP to Secretary Brian Nicholson at brian@nsaliantzinc.ca
Information regarding 2023-2024 Registration and Fees will be posted following the AGM!

2022-2023 Season Comes to an End
And....that's a wrap!

With last night's games, the Highlander Curling Club wraps up the 2022-2023 season! We were all so happy to finally get a full season of curling in and to see so many new faces joining our club! Many many thanks to all of the countless volunteers who give their time to make our club such a wonderful community. We hope everyone has a wonderful summer and we can't wait to see you on the ice again next year!

Check out all of our season winners below! Click on the picture for more details. Congratulations to all who were award winners this year




Highlander Curling Club You Tube Channel
Highlander Curling Club now has its own You Tube Channel!!!! Check out the first cool video, as we get a "rocks view" as the stone curls down the ice, with many Highlander Curling Club members making cameos!! Huge Thanks to Board Member Edwin DeMont for creating this awesome video and our You Tube Channel, as well as Board Member Graeme Fraser for throwing the shot! **BEST VIEWED ON THE YOU TUBE APP ON MOBILE**Watch for more cool videos this season!!
Curling: A 2-Minute Guide
The Highlander Curling Club's first leagues started in 1992. It was built almost entirely by volunteers and continues to be run to this day 100% by volunteers.

The Highlander Curling Club has hosted many high calibre events including the Nova Scotia Scotties playdowns, Men's Tankard playdowns, provincial junior qualifiers, Provincial Seniors Mens & Womens, AUS championship among many others.

There are leagues taking place six days a week and opportunities for booking the club for events such as fundraising bonspiels, staff parties and family gatherings
NOTE: Highlander Curling Club does not accept credit or debit.
Hwy 316 Civic #3916
St Andrews, Nova Scotia B0H1X0
Looking For More Information on Events and Groups in the St. Andrews Community? Visit the St. Andrews Community Website